| | |
| --- | --- |
| ㆍ작성자 | 스페이스배 |
| ㆍ작성일 | 2015-02-13 (금) 17:25 |
Open Call for "2015 Openspace Bae-International Artist-in-residence program-OPEN TO YOU"

2015_OPENTOYOU-application.doc(69KB)

2015_OPENTOYOU_guidelines_for_application.docx(55.4KB)
oApplication Period : Feb.13(Fri), 2015 - Mar. 30(Mon), 2015
oApplication Deadline : 6 pm.(Korea Time) on Mar. 30(Mon), 2015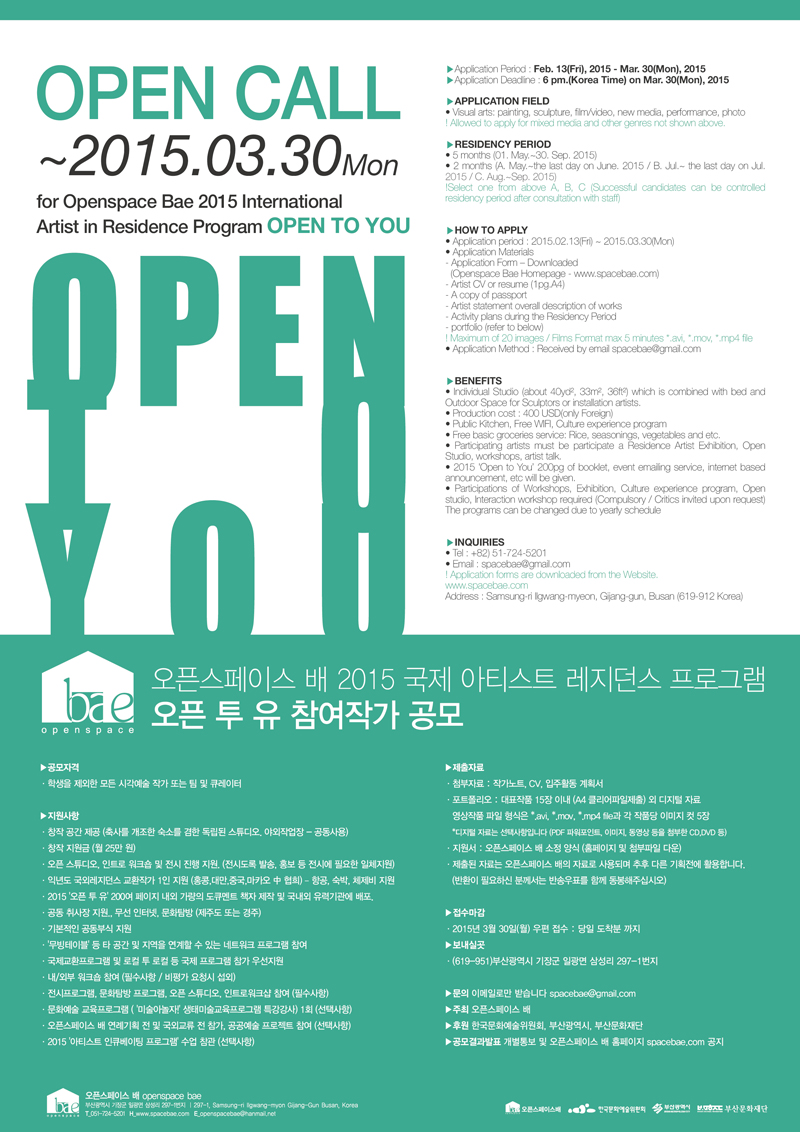 ▶ About the name
'Openspace Bae' is a non-profit alternative space in Busan, South Korea.
'Bae' in the name is a Korean word with manifold meanings; a pear, a boat or double. The name itself signifies location of the space in the pear orchard, locality of Busan as a harbor city and promotion (multiple times) of art. The name of the space represents our will to the promotion of contemporary art in the new space.
▶ Our Mission
The goal of Openspace Bae is to be a path to contemporary art world, which reflects actively and promptly the rapid change of art.
By developing a new system of exhibition and embracing new issues of contemporary art, we aim to provide the artists with space and chance to present their art. Especially, our Artist-in-Residence program will help them to draw a new vision of contemporary art by supporting their artistic imagination and experiments.
Also, our various support programs will create an opportunity to find promising young artists and to invite experimental exhibitions in alternative forms. Basically, we would like to support non-profit projects with an emphasis on artistic experiments or experimental ideas.
Located in the outskirt of the city and surrounded with nature-friendly environment, Openspace Bae is a space for those who wish to break away from white cubes and the institutional framework for the sake of true freedom of art. It will be a platform of communication for artists, curators and critics from across the country, where they can exchange substantial information and construct a steady network.
▶ About "Open to You" international artist-in-residence program
Openspace Bae has run Artist-in-Residence program since 2006. Many artists stayed in this space during the period of Artist-in-Residence program since the establishment of Openspace Bae. Bae is a non-profit alternative space which is financially supported by Korean Culture Art Council and Busan Culture Foundation, as well as gaining support from some of our local artists' donation who surely have a good understanding of what we do. Openspace Bae has run various programs, not just an international artist-in-residence program but also run several kinds of programs for the benefit of local art, such as Artist Incubating Program, Public Art Project, supporting exhibition program for young artists, organizing education programs, etc.
The location of Bae is outskirt of Busan city, placed in the middle of mountain and is surrounded by Ilkwang Beach. Residence artists will have an unexpected opportunity to live in and work with nature all the time which you couldn't experience in city.
Guidelines for "2015 Open To You" Application

● APPLICATION FIELD
• Visual arts: painting, sculpture, film/video, new media, performance, photo
! Allowed to apply for mixed media and other genres not shown above.
● RESIDENCY PERIOD
• 5 months (01. May.~30. Sep. 2015)
• 2 months (A. May.~the last day on June. 2015 / B. Jul.~ the last day on Jul. 2015 / C. Aug.~Sep. 2015)
! Select one from above A, B, C (Successful candidates can be controlled residency period after consultation with staff)
● HOW TO APPLY
• Application period : 2015.02.13(Fri) ~ 2015.03.30(Mon)
• Application Materials
- Application Form – Downloaded (Openspace Bae Homepage - www.spacebae.com)
- Artist CV or resume (1pg.A4)
- A copy of passport
- Artist statement overall description of works
- Activity plans during the Residency Period
- portfolio (refer to below)
! Maximum of 20 images / Films Format max 5 minutes *.avi, *.mov, *.mp4 file
• Application Method : Received by email spacebae@gmail.com
● Acceptance Process
• 1st selections by Documents - 1st week of April - By personal contact
• 2nd selections by Interview - 2nd week of April
• Final selections - 3rd week of April
! Announced on the Homepage and by person contacts .
! Scheduled days can be changed in cases.
● Obligations
• Strictly follow by the Terms and conditions of Openspace Bae.
• At least 5days a week of participation required.
• No pets and babies are allowed
● BENEFITS
• Individual Studio (about 40yd², 33m², 36ft²) which is combined with bed and Outdoor Space for Sculptors or installation
artists.
• Production cost : 400 USD(only Foreign)
• Artist supporting fees (Internal project, It depends on your proposal, The support will be different in grade.)
• Public Kitchen, Free WIFI, Culture experience program
• Free basic groceries service: Rice, seasonings, vegetables and etc.
• Participating artists must be participate a Residence Artist Exhibition, Open Studio, workshops, artist talk.
• 2015 'Open to You' 200pg of booklet, event emailing service, internet based announcement, etc will be given.
• Participations of Workshops, Exhibition, Culture experience program, Open studio, Interaction workshop required (Compulsory / Critics invited upon request) The programs can be changed due to yearly schedule
● OBLIGATIONS AND POLICY
Openspace Bae's Artist-in-Residence program, '2015 Open to You', offers participating artists the opportunity to pursue their artistic practice while being surrounded by OpenSpace Bae's inspiring landscape. Each selected artist is provided with an individual studio which shared living facilities free of rent. It depends on artist's proposal OpenSpace Bae will pay the artist's supporting extra fees.
In return, participating residency artists agree to oblige to the following requests;
1. Comply with the rules and policy of OepnSpace Bae.
2. Taking out a traveler's health insurance is strongly recommended. Any injury or medical expenses during the residency are the sole responsibility of the artist and not of OpenSpace Bae.
3. Artists are liable for any damage of property that belongs to OpenSpace Bae as well as third parties. Artists will be asked to compensate any costs resulting from inflicted damage.
4. Do not depart from OpenSpace Bae without prior notice of 48 hours in advance. Always inform the Executive Director or the Program Director about your schedule before you leave the residency area for more than two day.
5. Selected artists get financial support from OpenSpace Bae for airfare and artist fee.
6. If OpenSpace Bae organizes any public art project or educational programs in the year of your residency we strongly encourage your active participation and contribution.
7. Every artist is requested to participate in our ongoing activities, such as Open Studio,
Workshops and group exhibitions. These programs are designed to introduce and connect residency artists to the public and local contemporary art scene.
8. Before you invite or accommodate your friends as guests for more than 2 days at OpenSpace Bae, please contact the executive director or the program director in advance.
9. Artists are supposed to dispose their combustible garbage in the municipal garbage bag and to deposit them at the designated pick-up. With regard to our environment we strongly encourage waste reduction and recycling.
10. Every artist is asked to keep the premises tidy and assist in our collective clean up efforts in and around OpenSpace Bae twice a month, on every 2nd and 4th Sunday.
11. Artists are requested to archive their documentation material generated during the residency and provide us with the respective digital data in the form of photographs, images, movie/audio clips, postscript, etc. This material is essential for our annual report, booklet and to promote next year's program.
12. At the end of the residency and prior to the departure residency artists clean their studio and have it checked and approved by the program director.
13. Artists who cause significant trouble or noise are a great disturbance to other residency participants and neighbors. Given this situation, a committee constituted of executive director, program directors and fellow artists can decide about the trouble maker's prompt exclusion of from the residency program.
● INQUIRIES
• Tel : +82)51-724-5201
• Email : spacebae@gmail.com
! !Application forms are downloaded from the Website.
www.spacebae.com
• Address : Samsung-ri Ilgwang-myeon, Gijang-gun, Busan (619-912 Korea)
[Download application]

2015_OPENTOYOU-application.doc(69KB)

2015_OPENTOYOU_guidelines_for_application.docx(55.4KB)
| | |
| --- | --- |
| | |