| | |
| --- | --- |
| ㆍ작성자 | 스페이스배 |
| ㆍ작성일 | 2012-03-08 (목) 14:52 |
Open Call for "2012 Openspace Bae-International Artist-in-residence program-OPEN TO YOU"
Open Call for "2012 Openspace Bae-International Artist-in-residence program-OPEN TO YOU"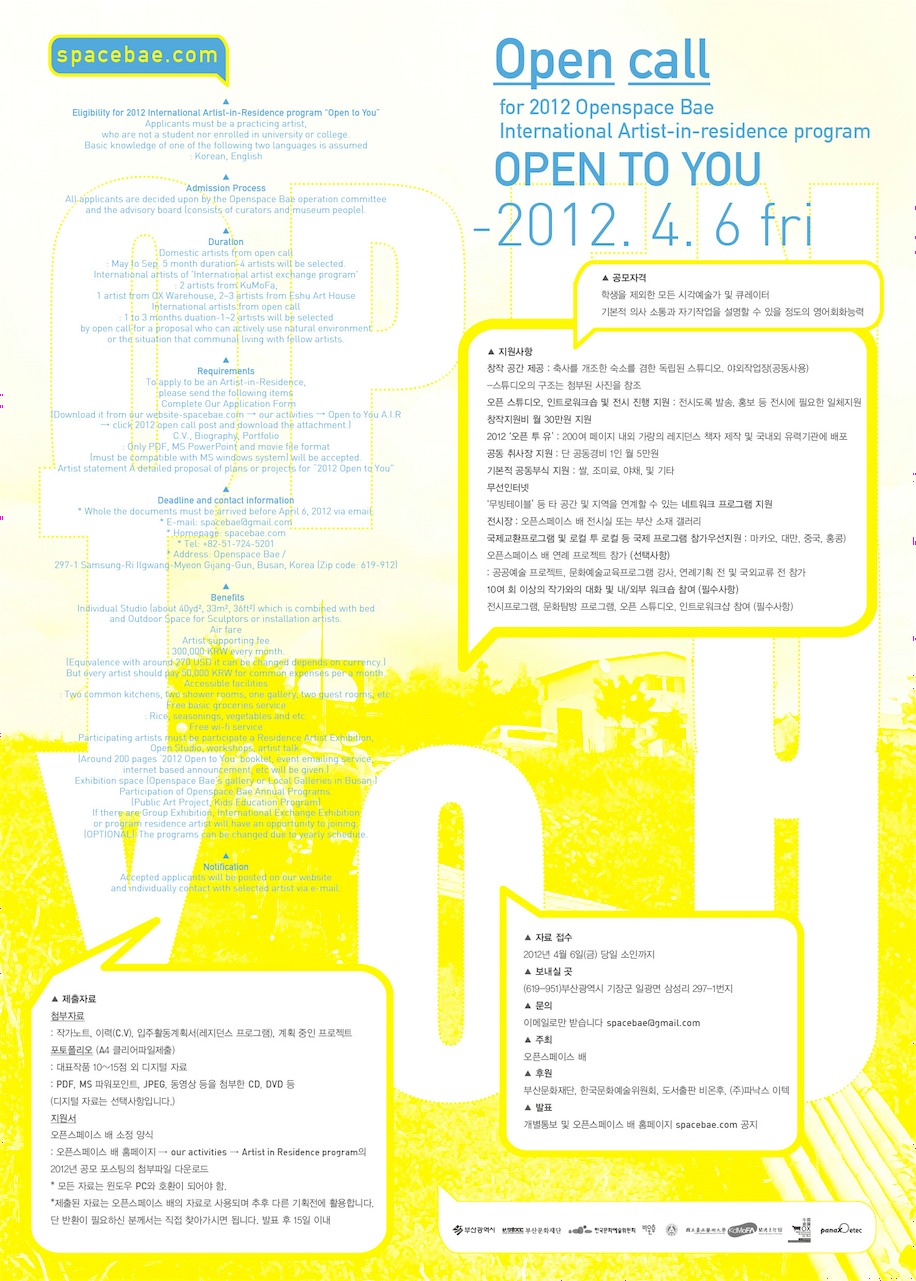 ▶ About the name

'Openspace Bae' is a non-profit alternative space in Busan, South Korea.

'Bae' in the name is a Korean word with manifold meanings; a pear, a boat or double. The name itself signifies location of the space in the pear orchard, locality of Busan as a harbor city and promotion (multiple times) of art. The name of the space represents our will to the promotion of contemporary art in the new space.

▶ Our Mission

The goal of Openspace Bae is to be a path to contemporary art world, which reflects actively and promptly the rapid change of art.

By developing a new system of exhibition and embracing new issues of contemporary art, we aim to provide the artists with space and chance to present their art. Especially, our Artist-in-Residence program will help them to draw a new vision of contemporary art by supporting their artistic imagination and experiments.

Also, our various support programs will create an opportunity to find promising young artists and to invite experimental exhibitions in alternative forms. Basically, we would like to support non-profit projects with an emphasis on artistic experiments or experimental ideas.

Located in the outskirt of the city and surrounded with nature-friendly environment, Openspace Bae is a space for those who wish to break away from white cubes and the institutional framework for the sake of true freedom of art. It will be a platform of communication for artists, curators and critics from across the country, where they can exchange substantial information and construct a steady network.

▶ About "Open to You" international artist-in-residence program

Openspace Bae has run Artist-in-Residence program since 2006. Many artists stayed in this space during the period of Artist-in-Residence program since the establishment of Openspace Bae. Bae is a non-profit alternative space which is financially supported by Korean Culture Art Council and Busan Culture Foundation, as well as gaining support from some of our local artists' donation who surely have a good understanding of what we do. Openspace Bae has run various programs, not just an international artist-in-residence program but also run several kinds of programs for the benefit of local art, such as Artist Incubating Program, Public Art Project, supporting exhibition program for young artists, organizing education programs, etc.

The location of Bae is outskirt of Busan city, placed in the middle of mountain and is surrounded by Ilkwang Beach. Residence artists will have an unexpected opportunity to live in and work with nature all the time which you couldn't experience in city.

▶ How to apply

1) Eligibility for 2012 International Artist-in-Residence program "Open to You"

Applicants must be a practicing artist, who are not a student nor enrolled in university or college. Basic knowledge of one of the following two languages is assumed: Korean, English

2) Admission Process

All applicants are decided upon by the Openspace Bae operation committee and the advisory board (consists of curators and museum people).

3) Duration

Domestic artists from open call: May to Sep. 5 month duration-4 artists will be selected.

International artists of 'International artist exchange program': 2 artists from KuMoFa, 1 artist from OX Warehouse, 2~3 artists from Eshu Art House

International artists from open call: 1 to 3 months duation-1~2 artists will be selected by open call for a proposal who can actively use natural environment or the situation that communal living with fellow artists.

4) Requirements

To apply to be an Artist-in-Residence, please send the following items:

Complete Our Application Form (Download it from our website-spacebae.comàour activitiesàOpen to You A.I.Ràclick 2012 open call post and download the attachment.)

.

C.V.

Biography

Portfolio: Only PDF, MS PowerPoint and movie file format (must be compatible with MS windows system) will be accepted.

Artist statement

A detailed proposal of plans or projects for "2012 Open to You"

* Whole the documents must be arrived before April 6, 2012 via email.

* Email: spacebae@gmail.com

* Address: Openspace Bae , 297-1 Samsung-Ri Ilgwang-Myeon Gijang-Gun, Busan, Korea (Zip code: 619-912)

5) Benefits

◎ Individual Studio (about 40yd², 33m², 36ft²) which is combined with bed and Outdoor Space for Sculptors or installation artists.

◎ Air fare

◎ Artist supporting fee: 300,000 KRW every month. (Equivalence with around 270 USD it can be changed depends on currency.) But every artist should pay 50,000 KRW for common expenses per a month.

◎ Accessible facilities: Two common kitchens, two shower rooms, one gallery, two guest rooms, etc.

◎ Free basic groceries service: Rice, seasonings, vegetables and etc.

◎ Free wi-fi service

◎ Participating artists must be participate a Residence Artist Exhibition, Open Studio, workshops, artist talk. (Around 200 pages '2012 Open to You' booklet, event emailing service, internet based announcement, etc will be given.)

◎ Exhibition space (Openspace Bae's gallery or Local Galleries in Busan.)

◎ Participation of Openspace Bae Annual Programs. (Public Art Project, Kids Education Program) If there are Group Exhibition, International Exchange Exhibition or program residence artist will have an opportunity to joining. (OPTIONAL)-The programs can be changed due to yearly schedule. )

6) Deadline: April 6, 2012

7) Notification: Accepted applicants will be posted on our website and individually contact with selected artist via e-mail.

8) Contact Information:

Email: spacebae@gmail.com

Homepage: spacebae.com

Tel: +82-51-724-5201

Obligations and policy

Openspace Bae's Artist-in-Residence program, '2012 Open to You', offers participating artists the opportunity to pursue their artistic practice while being surrounded by OpenSpace Bae's inspiring landscape. Each selected artist is provided with an individual studio which shared living facilities free of rent. OpenSpace Bae will pay the artist's round-trip airfare and an artist fee of KRW 300,000 for each month of your residency.

In return, participating residency artists agree to oblige to the following requests;

1. Comply with the rules and policy of OepnSpace Bae.

2. Taking out a traveler's health insurance is strongly recommended. Any injury or medical expenses during the residency are the sole responsibility of the artist and not of OpenSpace Bae.

3. Artists are liable for any damage of property that belongs to OpenSpace Bae as well as third parties. Artists will be asked to compensate any costs resulting from inflicted damage.

4. Do not depart from OpenSpace Bae without prior notice of 48 hours in advance. Always inform the Executive Director or the Program Director about your schedule before you leave the residency area for more than two day.

5. Selected artists get financial support from OpenSpace Bae for airfare and artist fee.

6. If OpenSpace Bae organizes any public art project or educational programs in the year of your residency we strongly encourage your active participation and contribution.

7. Every artist is requested to participate in our ongoing activities, such as Open Studio,

workshops and group exhibitions. These programs are designed to introduce and connect residency artists to the public and local contemporary art scene.

8. Before you invite or accommodate your friends as guests for more than 2 days at OpenSpace Bae, please contact the executive director or the program director in advance.

9. Artists are supposed to dispose their combustible garbage in the municipal garbage bag and to deposit them at the designated pick-up. With regard to our environment we strongly encourage waste reduction and recycling.

10. Every artist is asked to keep the premises tidy and assist in our collective clean up efforts in and around OpenSpace Bae twice a month, on every 2nd and 4th Sunday.

11. Artists are requested to archive their documentation material generated during the residency and provide us with the respective digital data in the form of photographs, images, movie/audio clips, postscript, etc. This material is essential for our annual report, booklet and to promote next year's program.

12 At the end of the residency and prior to the departure residency artists clean their studio and have it checked and approved by the program director.

13. Artists who cause significant trouble or noise are a great disturbance to other residency participants and neighbors. Given this situation, a committee constituted of executive director, program directors and fellow artists can decide about the trouble maker's prompt exclusion of from the residency program.

A short essay about 'Open to You'

Openspace Bae has a unique differentiation from other residency places, which is that the place is surrounded by nature. In other words, this alternative space can be considered as a part of nature, and some even call it as a workroom in jungle. The reason is because of its location. The place is not only far from the downtown of Busan, but also people need to walk about twenty minutes to Ilgwang Beach where public transportation is available. Of course people with private car can get in faster, but the road is unpaved.

Openspace Bae is built as two separate spaces; one is office building (gallery), and the other one is the work building. By taking a shortcut, it takes about five minutes from the office to the work building. The office building is consisted of three parts; 1. a double floored house (which is used as an office and a lodge for artists), 2. a tall and spacious gallery and 3. a fantastic front yard where we can take a moment of seeing the scenery of the changing seasons. Most of the exhibition opening party, artist talk, and workshops are taken place in here. Those who visit Bae for the first time would think that this place has an optimum condition for roasting pork belly over a hot grill. Yes, during the summer and fall residency program progress, the barbeque party is held very often in this place. We stay up almost every night with multinational food and culture.

The 2nd floor is used as Bae managers' office and archive for collected resources and data. In the 1st floor, there is a communal kitchen for artists to cook, two bedrooms, and a shower room which never looks like there will be enough hot water, but it certainly provides you a warm and hot shower. Probably most of the living activities will be done in this building. In the backyard, there is a cucumber/tomato/green onion field raised by grandpa and grandma without any agriculture chemicals. They kindly offer us to pick and eat the vegetables anytime. We always feel thankful and sorry about that.

Crossing the pear field from the office building, there comes the work building. This place is made by local artists' sweat and sacrifice. They re-constructed old stable into several workrooms quite decently. Even water was not supplied in the first year of holding a residence program. Artists overcame the difficulty by diligence and in the second year, after a long-cherished wish, water supply system was finally prepared. But, until then, the toilet was outmoded, so lots of artists went out to office building or to the woods in order to solve the physiological problem. At last! Last year! After all prayers and a longing desire, a clean and new bathroom and a shower booth were built. We all know that the raised money by a united effort of the local artists for building a modern toilet has a worth beyond its function.

However, if you expect some kind of urban life style, you are sadly mistaken. We still need to check up the amount of water in a water tank in order to use water; to achieve it, somebody needs to take a stroll to turn a pump switch on for maintaining adequate amount of water. Even if they are surrounded by a beautiful nature, but they yet need to fix a blocked hose or clogged filter to run smoothly. So it is easy to see a scene of artists waving water pipes.

Nature… It sounds a little awkward as we are being used to living in urban areas. However, this particular place simply shows nature itself, not just forming up a beautiful image of nature. You would need to work accompanied by dozens of insects during summer, and it is not too surprising to meet up with some rare species which you could have been found in an illustrated insect book.

The distance from the workplace to Ilgwang Beach is not so far way, so, many artists enjoyed bathing in the sea during summer. Especially for international artists, they loved the sea very much and joyfully made a round trip around the sea area to buy necessities as well as to swim in every morning.

Through gaining several years of a good experience with other artists, they form a league of themselves which led to create a unique kingdom and language in an amusing environment. Thus, many of international and national artists think of the good old days spent together and they would like to keep a continuous relationship. This kind of attitude gradually allowed making an exchange program in association with their own countries' artistic spaces. However, there were some artists quit the program halfway through due to rule violation and their lack of preparation.

Openspace Bae Residency Program aims to make a new network through sharing an individual and artistic life style and taking a mutual communication among the artists.

We believe that this unexpected opportunity would turn out as an extraordinary breakthrough after all.

We look forward to meeting up with 'Mr. and Ms Lucky' of year 2012.

-Program director Dae-Hong Kim

Application download:

2012_bae_application_en.doc(55KB)
| | |
| --- | --- |
| | |